Last update: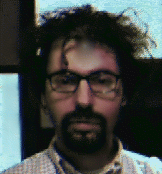 paolo@economia.unitn.it
born on october 14, 1967.

Current Position:
Graduate Fellow, Santa Fe Institute, Santa Fe, New Mexico USA
PhD student in Economics and Management, Scuola Superiore S. Anna, Pisa
University studies:
Graduation in Economics, University of Trento, with full marks 110 out of 110. Dissertation title: "Decisions and coordination strategy: analisys and empirical evidence". Subject: bounded rationality, experimental economics. Advisor: Prof. Massimo Egidi.
High school:
Istituto Tecnico Industriale, Perito in Informatica
Italian...
English spoken and written at a good level
German spoken and written at a sufficent level
Computer consultant (1986-1987) in the businnes administration field. In particular worked with information system and management control system.

Visiting researcher at the University of Illinois at Urbana Champaign (1990) for the analysis and development of a Group Decision Support Systems based on MS-DOS networks, with an object oriented programming approach.

Researcher in the "Software Engineering lab." of the University of Trento. I participated in a EEC (European Economics Comunity) research project named "TIBAS". Designed a multimedia mail application with a OSF-Motif gui (1992-1993).

Software consultant for the Hospital of Trento (1994).

Worked with the dep. of Economy at the University of Trento (1994-1996) in the research project "Apprendimento organizzativo: Modelli, Sperimentazione e Simulazione" ("Organizational Learning: Modeling, Experimentation, and Simulation"). In this project I was involved in Experimentation and Simulation of Learning using neural networks and object oriented programming technique.

Worked as coordinator of the Computable and Experimental Economics Laboratory of the University of Trento.
Programming languages: C, Objective-C, C++, Pascal, Lisp, Fortran77/90, Perl, assembler, Delphi, VB, Basic, POP-11.

Operating systems: System administration knowledge of Unix (NeXTStep, Irix, Solaris, Linux), Windoze (98, NT); User knowledge of VMS and Mac OS.

Development environment: GNU, Microsoft, Borland, Openstep.

Simulation environment: SWARM.

Applications: Mathematica, spss.

DB: Oracle, postgress, mysql.

Networking: TCP/IP, Novell, SMB.
1992-93 Practical tutor for the courses of "Fondamenti di Informatica" and "Sistemi Operativi" (Operative Systems) at Diploma Universitario di Ingegneria Informatica 1992-93
Participant in the BEaST Summer School In Experimental Economics. Barcellona, September 12-24 2000.

Participant in the Santa Fe Institute Graduate Workshop in Economics: Computational Modeling and Complexity, Santa Fe, June 2000.

Participant in the 1st Summer School on Markov Models of Evolution, Growth and Adaptation in the Economy. DISA, University of Trento, october 1999.

Participant in the 8th Summer School for parallel computing. CINECA, Bologna september 13-24 1999.
| | | |
| --- | --- | --- |
| | Department of Economics via Inama, 5 I-38100 Trento tel. +39 461 282201 | |